See NASA quote.
Why SureBolt?
Measures tension not torque,
Patented whole echo method,
Graphs tension changes in real-time,
Instrument is built into the PC,
Friction varies too much, bolt to bolt,
Not fooled by friction variations,
Using lubrication still leaves large friction variations,
Avoid flange leaks,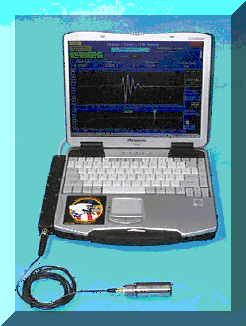 Prove to safety you took a reliable tension reading,
Far greater reliability,
All other bolt gages are one-point bolt gages,
No more zero-crossing peak jumping,
ALL other bolt gages have problems with peak jumping,
Dramatic improvement due to a new patented DSP technique,
Proven by NASA,
Can record over a million bolt tensions with their waveforms,
Playback built in,
Excel compatible data files,
Flange bolts easily grouped together,
Critical bolts,
Verify your design,
Safety,
Tension verification,
Accuracy,
Much easier to use,
Graphical help,
On-line help,
Dynamic help,
13" Color Screen instead of 5" black & white screen,
Full keyboard instead of a few cryptic keys,
Record field notes with your tension data,
You can use long file names,
Large on-screen buttons,
Familiar WinXP/2000 operating system,
Full featured laptop - Panasonic Toughbook Model 72 computer,
1 year limited warrantee,
No need to transfer data to another machine,
No hidden information,
To sum it up, vastly easier and more reliable.
Press here for a detailed point by point comparison to all other bolt gages.
| | | |
| --- | --- | --- |
| | FAST-DAQ, Since 1989 | |
FAST-DAQ is a privately owned and independently operated business started in March 1989 in the State of Florida. Its primary activity is in the design of specialized instruments and high speed data acquisition (DAQ) systems in the technical fields listed below:
| | |
| --- | --- |
| | Acoustics and Ultrasonics |
| | Tension Control |
| | Phase Critical Analysis |

High Speed DAQ

DSP Techniques

Control Systems

FAST-DAQ personnel have extensive experience in ground support equipment for the Space Shuttle and many other fields of endeavor such as;

| | |
| --- | --- |
| | Vibrational acoustics, |
| | Cryogenics, |
| | Cross-Correlation 2-phase flow analysis, |
| | Lightning detection and ranging, |
| | Optical inspection systems, |
| | PID Control systems, |
| | Stud ejection mechanics |
| | Ultrasonic bolt gages |
| | Designing DAQ Systems, 4 to 100 channels, 1 to 20 Million sps |
FAST-DAQ's principle engineer is also listed as a co-inventor on two US patents (for ultrasonic and optical bolt gages). A third patent for differential cross correlation may be filled later.