Flange designers know that their flange seal may leak, if their flange bolt tensions vary too much between each bolt. Yet, most installations are done with a torque wrench, not a tension wrench. SureBolt is a new technology that measures actual flange bolt tension more reliably. It is not just flange bolt torque meter. Steel flange, pipe flange, flange adapter, flange mount, flange gasket, gasketed & non-gasketed mechanical seals, ..., rely on tension, not torque.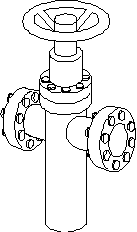 After all the engineering classes on flange design, why do some flanges leak? Here is a list of information that may be useful for a flange engineer or flange designer. Verify your flange design.

1. Flange seals sometimes leak. What is the most common cause of flange gasket leaks (as stated by bolting experts and flange joint designers)? Lack of proper - evenly distributed - pre-load tension. What are some of the factors that cause pre-load tension errors, see this link?

These all affect a flange design, especially the assumptions of the gasket tension being applied if only a torque wrench is used. Why does the tension in a flange bolt vary so much, bolt to bolt? Tightening one bolt loosens some others.

No matter how many passes, the tension can vary over 50% bolt to bolt. How can you tighten each flange bolt to closer tolerances? How can you use SureBolt on a flange?

NDT Update says:
" SureBolt outperformed the one-point bolt gauges on every bolt and every test in reliability and accuracy.
"

2. Flange bolt tension, not bolt torque. Tension not torque. You want to put a known amount of tension into your nut and bolt combination, not just a known amount of torque. Your flange design often relies on consistent pre-load tension. See "friction".

3. Measure tension errors. How can a flange designer measure torque wrench errors? Do these bolt tension errors matter?
4. Friction. Flange engineers know that bolt and nut friction consume over 80% of the torque measurement.

But, how does the actual tension vary bolt to bolt? What if you use the same type of bolt?

What about different lubricants, multiple passes, different tightening sequences, ... etc?


Notice the variation in bolt tensions on each of three passes with a torque wrench.


Credit John Bickford for this graph. He mislabeled the first pass (it should show 100 Pound-Feet instead of 200 Pound-Feet). This is corrected in his new edition. Mr. Bickford is probably the world's expert on bolted joints.

X-axis = bolt position. 16 different bolts
Y-axis = bolt stretch (tension).
Large tension variations are typical with torque control. Notice the > 250% variations.

5. Flange bolt's stress, strain & yield. A stress strain curve can be plotted using SureBolt. Stress strain and yield. SureBolt can help a structural engineer verify his bolted joint design. Did his bolt reach yield?

6. Bolt gage. Your flange's bolt stress analysis can be verified using a bolt gage. What is an ultrasonic bolt gage? See an animated demonstration of an ultrasonic echo inside of a bolt. Mechanical engineering labs rarely have enough resources to let each engineer learn ultrasonics. Are bolt gages reliable? Are they easy to use? New patented technology has finally made ultrasonic bolt gages reliable and easy to use.

7. SureBolt. How does SureBolt differ from any other ultrasonic bolt gauge? What is the difference between a one-point bolt gage and SureBolt's patented whole echo method? Are their prices similar? (Yes)

8. Flange Engineers. Some engineers use a strain gauge to measure bolt tension because they know a torque wrench is not directly measuring tension. Yet their flange design software may assume a limited amount of tension error (+- 25%) when calculating bolt tension from bolt torque.

9. Tension errors. What are some of the tension errors associated with using a torque wrench? Does your flange design software let you enter the tension error ranges?

10. Flange engineering. This site is a flange engineering resource for torque versus tension in bolted joints. SureBolt is a nondestructive testing - NDT - method of measuring bolt tension. Non destructive testing includes the use of ultrasonics.