See NASA quote.
Why SureBolt?
Measures tension not torque,
Patented whole echo method,
Graphs tension changes in real-time,
Instrument is built into the PC,
Friction varies too much, bolt to bolt,
Not fooled by friction variations,
Using lubrication still leaves large friction variations,
Avoid flange leaks,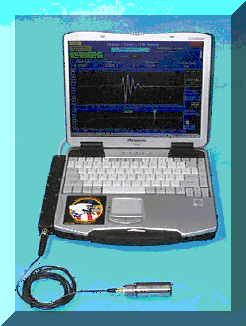 Prove to safety you took a reliable tension reading,
Far greater reliability,
All other bolt gages are one-point bolt gages,
No more zero-crossing peak jumping,
ALL other bolt gages have problems with peak jumping,
Dramatic improvement due to a new patented DSP technique,
Proven by NASA,
Can record over a million bolt tensions with their waveforms,
Playback built in,
Excel compatible data files,
Flange bolts easily grouped together,
Critical bolts,
Verify your design,
Safety,
Tension verification,
Accuracy,
Much easier to use,
Graphical help,
On-line help,
Dynamic help,
13" Color Screen instead of 5" black & white screen,
Full keyboard instead of a few cryptic keys,
Record field notes with your tension data,
You can use long file names,
Large on-screen buttons,
Familiar WinXP/2000 operating system,
Full featured laptop - Panasonic Toughbook Model 72 computer,
1 year limited warrantee,
No need to transfer data to another machine,
No hidden information,
To sum it up, vastly easier and more reliable.
Press here for a detailed point by point comparison to all other bolt gages.
| | | |
| --- | --- | --- |
| | Contact FAST-DAQ | |
We do NOT give out our client addresses to anyone, for any price.

Let us know how we can be of service to you. We will be glad to discuss your custom bolting application with you. If SureBolt is applicable, we will discuss with you the exact approach to get the most accurate and reliable tension measurements.

You will NOT be contacted by a salesman. Only an experienced applications engineer. We want to understand all the applications where SureBolt can be useful. Therefore, one of our SureBolt design engineers will call you (if that is what you suggest in your comments), or email you an answer to your questions. Only give us the information you want us to have.

There are no required fields that you have to fill in. We just want to understand your application and help if we can.

Manufacturers are using ultrasonics to reduce maintenance

costs. SureBoltís new patented DSP technique allows far more reliable measurements and uses a ToughBook laptop to make taking measurements much easier. In short; more reliable, online graphical help, large color touchscreen, and much shorter learning curve. Finally an ultrasonic method that records the whole echo so you can prove to safety or quality that you took a reliable measurement.

But, SureBolt still has limitations. It may not work for your application. Contact us and let us know what problem you are trying to solve. If we think SureBolt will work and will save you enough money to justify purchasing, then we will send you an application summary and cost justification. You can even send us your bolts for a free evaluation.

Thank you again for your interest in SureBolt,
Geoff Rowe

, FAST-DAQ

FAST-DAQ
Let us know how we can help you.
Telephone

(780) 983-1858

FAX

(321) 268-0658

Postal address

Winter Springs, FL 32708, USA

Electronic mail

Due to spam, we have replaced the text email address, with the image email address shown here.
Since 5-27-02